Dental Implants Portland, OR
Benefits of Dental Implants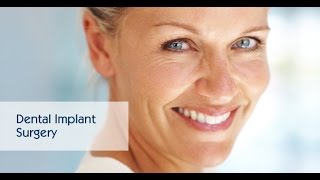 Missing a tooth isn't just bad for your looks; it can be bad for your health as well! Healthy teeth play an important role in the body from head to toe. When you are missing one, your jawbone deteriorates, your self-esteem suffers and so does your diet, which negatively affects the health of your entire body. Dental implants look, feel and function just like natural teeth and are widely recognized as the best replacement method.
Implants Last Longer
Fact: Dental implants last two to three times as long (25+ years) as traditional tooth replacement approaches such as bridges (5-15 years) and dentures (5-8 years). Simply put, in terms of longevity, dental implants can't be beat. This is why, although they are more expensive upfront, they are usually a better investment over time. When compared to bridges and dentures, which will likely have to be replaced 2-3 times during a person's life, dental implants pay for themselves.
Saving Jaw Bone Structure
Without the regular stimulation of chewing, biting and speaking provided by teeth, the jawbone deteriorates. In the first year alone after the loss of a tooth, a patient may lose 25% of his or her supporting jawbone structure. There is only one way to stop the recession: with dental implants. Because the titanium screw fuses with the bone, it provides the stimulation that is needed over time to maintain jawbone mass.
Eat and Feel Great Again
With dentures and bridges, there are limitations to what you can eat, and dentures look unnatural and have a reputation for falling out at inopportune times. By contrast, dental implants give you back your ability to eat anything, and your self-esteem at the same time.
---
Key Questions Every Patient Should Ask Their Implant Provider
Are you a board-certified surgeon? Where did you do your training?
How much implant surgery training and experience do you have? Was the training formalized through a university?
How often do you perform implant surgery?
Am I a good candidate for implants? Does my age & medical history support implant therapy?
What are potential complications of dental implant therapy? How can you take care of them?
Are there contraindications to implant surgery?
Is the implant treatment completed in one office?
Tell me about the quality of the implants you use. Are they from a leading international company?
What is your follow-up process for patients? Is it included in your overall fee?
How do you treat implant failures? Are there guarantees?
Can I talk to other implant patients before I start care?
---
Dental Implant Surgery Portland
Our bodies are truly amazing – their ability to coexist with a variety of native and foreign materials means that our treatment options, as oral surgeons, are constantly expanding. "Osseointegration" refers to the fusing of bone with an artificial material. Its origins date back to the 1940s and 50s, when Swedish physician Per-Ingvar Branemark discovered that titanium fuses so well with bone that it is nearly impossible to remove! Since then, the biocompatibility of titanium has proven itself to be amazingly reliable over and over again.
Normal
Tooth Loss
Healed Bone
Implant Placed
Healing
Implant Restored
Consultation and Treatment Plan: During the initial phase of the dental implant process, imaging is gathered along with your medical and dental histories to give us a clear picture of your current health. We will then explore your treatment options with you to formulate a plan that ensures that both your health goals and budgetary needs are met.
Extraction: The next step is to have the tooth in question extracted. In some cases, we may be able to place the implant at the same time of extraction. In others, bone grafting will be required prior to implant placement (see next step).
Bone Grafting: It is fairly common for the jawbone to lack the mass needed to accept an implant. In this case, a bone graft will be performed first to strengthen the target area. Bone grafting is typically followed by several months of healing before the implant can be placed.
Dental Implant Surgery: During the implant procedure itself, a titanium screw is inserted into your jawbone. You will be anesthetized for comfort during the surgery, which takes about 1-2 hours.
Osseointegration: After placing the implant, we cover it with the surrounding soft tissue and let it sit for 3 months in order to fuse with the bone.
Final Restoration: After osseointegration is complete, an abutment is placed on the implant to connect with the final crown restoration. Typically, the final restoration is done by a general dentist.
---
Dental Implant Options Portland
Single Tooth Implant
Dental implants are made of titanium. A completed implant includes three pieces: the implant itself (a titanium screw that is placed in the jawbone), the abutment (a connector between the implant and crown) and the crown (the part that is visible and looks like a tooth). The doctors will place the implant and the abutment, and the crown will be completed by your general dentist.
Metal-Free Ceramic Implants
100% Metal-Free Ceramic Implant Solution and a Two-piece Ceramic Implant Solution.
Why Ceramic Dental Implants?
Benefits:
Esthetics
Natural soft-tissue appearance and attachment
Alternative to titanium
Full Mouth Dental Implants
A patient that is missing an entire row of teeth is in a unique position: a chance to start fresh with a full-arch restoration! While there are other options for treating a full row of missing teeth such as single implants and dentures, patients these days are expressing a desire for a solution that is more affordable, quick and convenient.
The demand for immediate replacement teeth has led to a revolution in how we deal with missing teeth: the full-arch restoration. Also known as "implant supported dentures", this innovative treatment allows the doctors to combine implant technology with dentures to give our patients a new smile and a renewed outlook on life, all in one day!
Traditional dentures can be inconvenient, painful and unstable. And while dental implants are an excellent choice for single tooth replacements, on the scale of a full arch, they can be expensive and complicated. However, putting these two treatments together yields a solution that works for nearly everyone: implant supported overdentures. During this treatment, four dental implants are placed in the jaw and a full dental bridge attached to them, giving you a full row of teeth in just one appointment.
Ball Attachment Denture
Two implants are placed in the lower jaw, onto which a denture snaps into place. This option is more stable than traditional, removable dentures; however there will still be some movement. Sore spots can develop if food is caught underneath. Periodic appointments ensure proper adjustment.
1. Before
2. Implants Placed
3. Denture Attached
Bar Attachment Denture
Referred to above as "overdentures", this process involves the placing of four to six implants in the lower jaw. A custom support bar connects the implants, and a denture with internal retention clips is attached to the support bar. This option is very popular as the denture is more stable than with ball attachments, yet it is still removable for cleaning.
1. Before
2. Implants Placed
3. Denture Attached
Hybrid Half-Denture/Half-Fixed
Also known as a screw retained denture, this option offers maximum stability. Placed on five or more implants and secured by screws or clasps, the denture is permanent, only removed by us at maintenance visits. The denture does not contact gum tissue, allowing you to clean under it without removal.
1. Before
2. Implants Placed
3. Denture Attached
---
Dental Implants Cost
The doctors know that when deciding between dental implants and alternative tooth replacement methods, there's a lot to think about. That's why we offer you this guide – a list of things to consider when making an informed decision about options for replacing your teeth.
Tips for Comparing Dental Implant Providers
When comparing quotes from various providers, keep in mind that there are several steps in the dental implant process that often involve more than one specialist – each should be figured into the cost.
x-rays & imaging
tooth extraction
bone grafting
implant surgery
final restoration (crown)
Does insurance cover dental implants?
Most dental insurance plans do not cover dental implants because insurance companies feel that there are cheaper alternatives available. Helping you understand your benefits and alternative treatments is part of our job – we will be with you every step of the way.
Dental Implants: Estimating your Cost
The cost of dental implants depends heavily on a variety of details about each individual patient's case. That's why the best way to get an accurate estimate of what your cost will be is by calling us to schedule a consultation – we look forward to putting a smile back on your face.
---
Dental Implant FAQs
Have other questions about Dental Implants?
How long will implant treatment take?
The time frame for implant therapy varies depending on the extent of treatment. Traditional thinking would be that care will take somewhere between 3 and 6 months. However, the media is full of claims of immediate implant treatment: "teeth in a day". Yes, this can be done in certain circumstances, but it does not set the standard for healing in most cases. Many issues come into play when answering this question. Placing a tooth on an implant too soon is no different than walking on a broken leg too soon. The bone cells must have time to react to the surgical stimulus and respond appropriately. So the final answer is that it depends on the circumstances, human biology and the patient's health. All cases are not the same.
How long does it take to place an implant?
Most single implants can be placed in an hour or less time, provided that the preliminary planning has been accomplished.
Will there be pain associated with the implant placement?
Most surgical procedures will cause some surgical stimulus or pain. Our patients would tell you that they sometimes take nothing more than aspirin, ibuprofen or Tylenol to relieve discomfort. We do provide post-operative analgesics for those patients that require more pain coverage. Our goal is to provide a stress-free, low-pain experience.
Do you provide the entire treatment experience? I do not want to go to a second clinician.
In most cases, our clinic does not provide the entire implant care package. We work with your dentist or other experienced specialist to give you the best restorative outcome. We call this the "team concept" and feel that it is the best long-term approach for you and your family. What we do is a specialty and so is the treatment provided by your dentist.
Do I need to go to asleep to have an implant placed?
In most cases, general anesthesia or IV sedation is not necessary for safe, effective implant placement. Good local anesthesia is all that is necessary for effective care. However, there are instances that require more than local anesthesia. Longer cases are often best handled with IV sedation or general anesthesia. We will discuss anesthesia during your consultation. Each patient is different and requires individual consideration for anesthesia.
How many appointments are necessary for adequate implant therapy?
Most patients need an exam or consultation in order to be adequately evaluated prior to implant treatment. Once the treatment plan is formulated there will be an appointment for the surgery and several post-operative appointments for adequate follow up. In many cases, a second surgical appointment is necessary to prepare the implant for the restorative doctor. This second surgical appointment is included in the original treatment plan fee.
Can you tell me over the phone if I am a potential implant patient?
The answer to this question is no. In fairness to you and your family, you cannot be evaluated over the phone. There are many considerations that must be taken into account in order to provide the best diagnosis. Too many variables are present to allow for a discussion with substance over the phone. It is important to get the best, most thorough advice to make an informed decision.
What is the success rate of dental implants?
Dental implants are highly successful. In fact, there are very few issues in dentistry or medicine that carry the same success rate. In the mandible (lower jaw) the success rate is above 95% at 5 years. In the maxilla (upper jaw), it drops below 95% but is still very high, well above 90%. Of course this depends on the patient, their care and how the implant is restored.
Will the implant last me the rest of my life? Is it permanent?
In most cases, dental implants can be expected to last the life span of the patient. There are many reports the exceed 30 years for implants in a single patient. Nothing is permanent, but dental implants last longer than what you can expect from any other dental device. Most patients should expect a very long-term implant experience, provided that they care for the implant as they would any other medical device.
How do I know the Doctor is using the best dental implant? Are there differences in product quality of dental implants?
Today, there are more than 70 different implants being marketed in the United States. All of these implants have met the minimum requirement of the FDA. However, there are many different issues with certain implants. Our office uses one of the top implants. There is a long history of success with the Nobel Biocare implant and it remains one of the top implant solutions. There is more research associated with this implant than any other on the market. While there are many "knock offs" that are less expensive, the old adage that "you get what you pay for" is never more true. You want something that will be there 20-30 years from now and a product that sets the standard for care and for research. Be careful about cheap implants, they are not always cheaper or less expensive.
For all of your dental implant questions, please call our office today at Portland Office Phone Number 503-292-8824!
---
Restore Your Smile and Oral Health with Dental Implants
Discover the benefits of dental implants, which provide a natural-looking and long-lasting solution for missing teeth. Regain your oral health, self-esteem, and ability to eat comfortably with dental implants.
503-292-8824
Appointments
Map & Driving Directions
Dental Implant Reviews Portland
Read All Our Reviews Write a Review

Malmquist Oral and Maxillofacial Surgery
5
out of
5
stars based on
7
Dental Implants reviews.
---
Our Latest Patient Testimonial
First off, the office is beautiful! Second, Dr. Mike and his staff are awesome. Everyone is super knowledgeable and helpful. My extraction, bone graft, and implant case was not the easiest and it was a long process but Dr Mike has done a phenomenal job! I highly recommend Dr Mike and Dr Jay to anyone that is in need of oral surgery! Thank you guys, again!
- Amanda M
Our Latest Patient Testimonial
EXCELLENT STAFF--VERY COURTEOUS AND PROFESSIONAL. DR. J APPLIED TWO IMPLANTS IN 2004 AND I WAS SO PLEASED WITH THE PROCEDURE THAT WHEN I NEEDED ADDITIONAL IMPLANTS I DID NOT HESITATE TO CONTACT HIS OFFICE. HE AND HIS STAFF HAVE MAINTAINED THEIR DESIRE FOR PERFECTION. I FEEL VERY CONFIDANT IN RECOMMENDING HIM TO MY FRIENDS.
- MARY M
Our Latest Patient Testimonial
Dr. Mike and his team are simply the best at what they do.
- Ruth M
Our Latest Patient Testimonial
I'm grateful to have been referred to Dr. Malmquist for my dental implant needs.
- Ruth M
Our Latest Patient Testimonial
From the minute you open the door, until you leave ... everyone if friendly and professional. I've had several procedures and am always comfortable and treated with TLC. Dr. Malmquist is excellent ... gentle and direct. Good job all!
- Tomiko T
Our Latest Patient Testimonial
Previously, I had been a patient of Corporate Dentistry found in every small mall in America and have been paying the price of massive dental work ever since. Because of this history, I do not make references I do not 100% believe in. I am fortunate to have found Dr. Malmquist through references from a wonderful dentist that has helped me through the last ten years. I am now in my final steps to a healthy mouth (insert happy face). Recently, I have had bone grafts and am now in the process of three implants. Everything has gone better than expected and I am truly surprised how quickly I have healed. Dr. Malmquist offers you many options and the newest technology. I have, with complete confidence, recommend Dr. Malmquist to my son.
- Kate D
Our Latest Patient Testimonial
Previously, I had been a patient of Corporate Dentistry found in every small mall in America, and have been paying the price of massive dental work ever since. Because of this history, I do not make references I do not 100% believe in. I found Dr Malmquist through reverences, that I very much trust, dentists that have helped me through the last ten years. I am now in my final steps to a healthy mouth (insert happy face). Recently, I have had bone grafts and am now in the process of three implants. Everything has gone better than expected and I am truly surprised how quickly I have healed. Dr. Malmquist offers you many options and the newest technology. I even had the confidence to recommend Dr. Malmquist my son.
- Kate D